It's not even thanksgiving yet, and Christmas is already looming over me. Ugh. The Holidays are the most depressing time of year for me when I am away from home, but when I AM home they're the best. I grew up celebrating every holiday. EVERY holiday.
Every easter we dyed eggs and I received a ginormous easter basket at breakfast. And every year, I would swap some of my lesser-candy with my brother in exchange for
something infinitely more delicious: peeps. Going along with tradition, I got a package of peeps from my mom this easter (picture on right is yellow peep on my balcony). I am happy to report that they arrived safetly, unlike last year's tragedy in Kenya...the ants got to the peeps and cadbury eggs before I did (see pink peeps on right with missing faces)
St. Patrick's Day was celebrated by wearing green (of course), eating corned b
eef (but only sometimes- my mom knew that no one else liked it except my dad), and making sugar cookies cut out like four-leaved clovers with green frosting. Delicious. Who else celebrates St. Patricks Day? No one else I know. But my name means "Ireland Forever" -supposedly- so I feel a special bond with this green celebration. Plus, I really like the color green.
Valentines Day was also celebrated by making sugar cookies - this time they were heart-shaped and the frosting was dyed pink. My mom would make me a batch and express mail them to me when I was in college....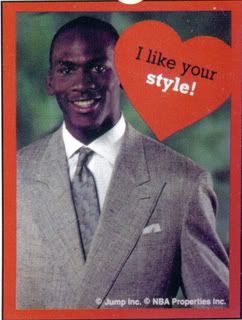 but they usually didn't even last a day. Come to think about it, we made some type of sugar cookie for almost every occasion. When you're a kid, of course you do all the class parties and hand out valentines. The first valentine I got (that I remember) was from a kid named Mark in 2nd grade. I had a crush on him and we would play footsie under the table. He gave me a valentine with the picture of Michael Jordan on it...these were back in the days when he was still cool and still in the NBA, of course. I'm ashamed to say that I still have this valentine, tucked somewhere away at home to remind me of those younger Tacoma days. Anyway, I still make valentines. Well, not this year (my valentines day was rather uneventful), but all throughout college I made valentine cards for my friends. How crafty am I.
For my mom, Fourth of July meant pulling out the stars-and-stripes sweater- even though it was July and 100 degrees out. I think that lately she purchased something slightly cooler yet no less patriotic. Since fireworks were illegal, we would alway
s get those black growing-worm things and sparklers. My brother and I would write our names in the sparklers and blacken the back patio in black-charcol-worm-dust that my mom would complain about. Sometimes we played croquet in the backyard, or maybe badminton. Whatever it was, I always lost to my brother. Every year we have hamburgers, iced tea, and potato salad, all eaten on the back patio. One of my favorite meals, ever. Then my friends and I would usually go watch fireworks. This year I spent fourth of July in Borneo. There was no such celebration, and I think that everyone forgot about it and it wasn't even mentioned...how sad. I'm so disappointed in myself for missing a holiday. I'm such an awful American.
Halloween! I think that this year was the first year that I haven't carved a pumpkin.. alas there are no pumpkins (at least the orange, round kind) to be found here. I should have found something else to carve. Anyway, I have carved pumpkins for as long as I can remember (although I don't remember handling sharp knives when I was little) , roasted pumpkin seeds, and gone trick-or-treating. Because my mom usually sewed our costumes when I was little, we were very creative, especially my sister Kerry. One year she dressed up in a burlap sack and went as a 'tea bag', and another year she went as a garlic clove.
I thought that the latter was such a great idea, so my mom re-created this costume last year for halloween.... Madie and I really stood out at the party. She dressed up as a black lady (not very PC). My costume was accented with a garlic necklace. One year, just a few years ago actually, Madie, Laura and I decided to invent our own costumes: Madie was "leftovers", wrapped in foil, silverware, and old food, Laura was a newspaper (easy costume), and I decided to go as a Q-tip. It was hard to trick-or-treat with my hands and head wrapped in toilet paper, but at least I was warm! Nobody understood my costume.
The first Halloween I can remember, I was dressed up in my footie-pajamas, wore some ears, and I was called a 'bunny'. One year I was a princess, one year Jasmine from Aladdin (very COLD costume!). So boring and unoriginal. I'm surprised that I never insisted on going as Ariel from the little mermaid. In college, I found an old pair of lab overalls, slapped on some goggles and grabbed an erlenmeyer flask or two, and I was a scientist. I always instisted that one is never too old to trick-or-treat, but I think that I am changing my mind. When my own friends are starting to have children that they themselves can take trick-or-treating - that means I'm too old. As much as I would like the free candy, I'll just have to find some other way to get it.